United Denominations
Originating From The
Lighthouse Group Of
Churches
Welcome to the ministry of
Dag Heward-Mills in the Southern
Region of the world overseen
by Bishop Emmanuel Klufio.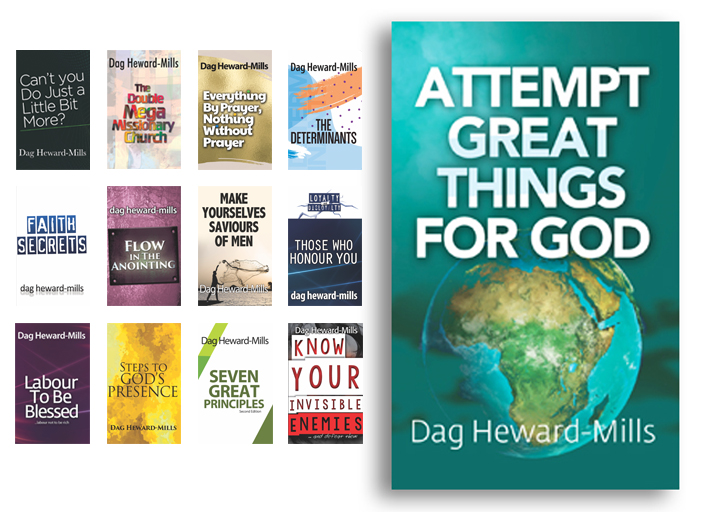 Attempt Great Things For God (New)
As long as God gives us life, we have a chance to do something great. Today, you have a chance to attempt great things for God. At least, try! Make an attempt!
This is a book that will encourage you to be the best God made you to be. Decide to attempt great things for God every day and you will be amazed at what you will be able to do by the grace of God.
Year twenty twenty two; our year of seed time and harvest
It's so exciting to be in 2022, and we look forward to the 10 blessings prophesied (during The Tsalach Night Service) by our pastor, Prophet Dag Heward-Mills, happening practically in our lives!
WHAT A JOY IT WILL BE TO HAVE YOU FELLOWSHIP WITH US
We're Saving A Seat For You
We don't care how you're dressed, how many tattoos you have, or what political party you voted for. We're a church full of broken, imperfect people with every kind of story imaginable and we're saving a seat for you.
Big Enough To Include You. Small Enough To Know You.
The work of the cross is not a work our natural senses can appreciate because all the work was done in the spirit and not in the physical, therefore become spiritual if you want to appreciate it.
BISHOP EMMANUEL KLUFIO
LCI South Africa Chairman
One thing have I desired of the LORD, that will I seek after; that I may dwell in the house of the LORD all the days of my life, to behold the beauty of the LORD, and to inquire in his temple. (Psalm 27:4KJV) The greatest gift in life is to have Jesus as Lord and Savior of your life.
BISHOP PETER MOGKANYA
Pretoria Council
We have all given ourselves to something, knowingly or unknowingly.
BISHOP KHAUHELO MOKOBOCHO
Maseru Council
Until you serve God with your best you have not started living.
BISHOP DANIEL HARLLEY
Pietermaritzburg Council
There is no safe place in this world, the only safe place is in the will of God.
BISHOP NAPOLEON ESSIEN
Cape Town Council
"...I beseech Thee, show me Thy Glory."
BISHOP XOLA MPUPU
Johannesburg Council
The greatest miracle to ever experience is salvation. Once you experience it, never lose it. Guard it till eternity.
BISHOP ANDY JUMAH
Manzini Council
Got a pressing issue? Is something on your mind that's depriving you of a sound peaceful sleep at night?
We would like to pray for and with you. Go ahead and send it through to us and let's trust God for a breakthrough together.